After an impressive 38 years with Strand Insurance, we want to congratulate Marla Johnson on her retirement.  Marla was been an asset to our Strand family and we wish her nothing but the best as she moves into this new and exciting chapter. Here are some of our fond memories through the years.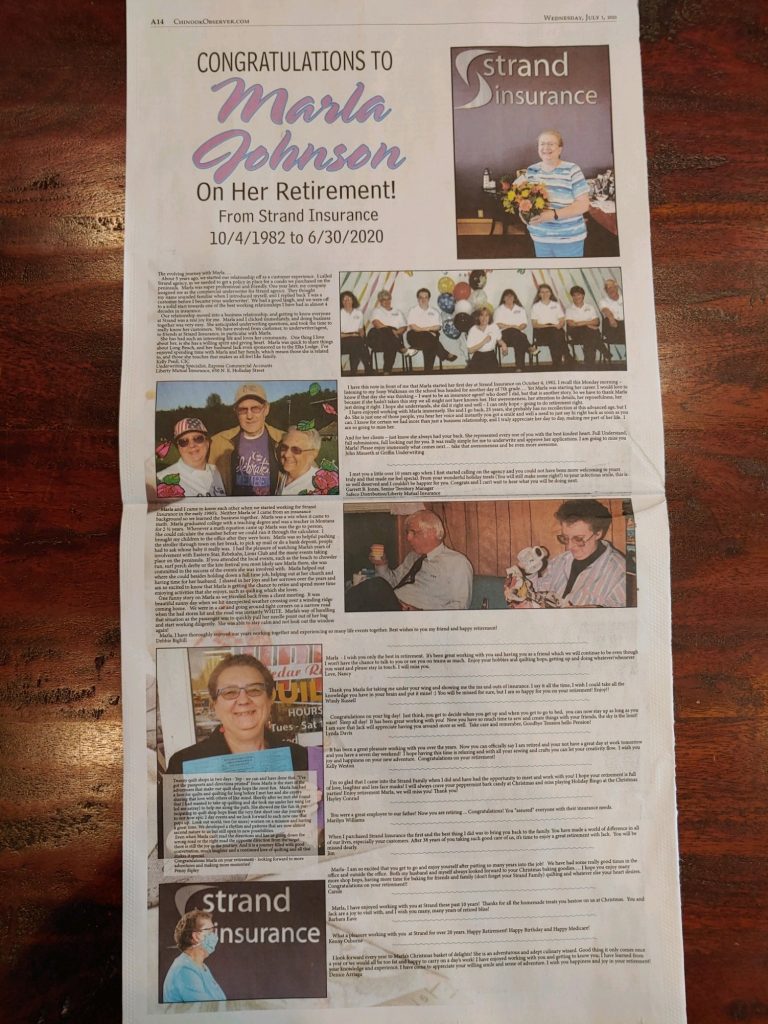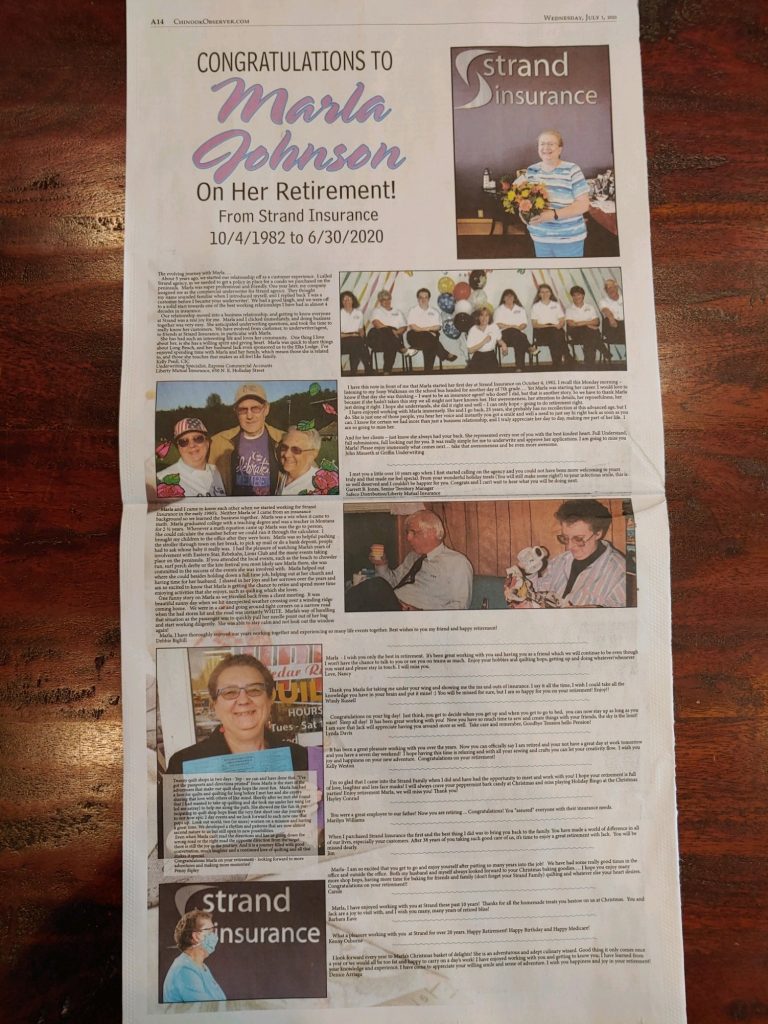 Congratulations Marla Johnson!

Take a trip down memory lane with us!
Halloween Memories

 
Marla's Adventurous Side
 
 
Since we can't have a slice in person with you, we are reminiscing with all the past desserts we have shared! Congratulations Marla!

  
Here are some kind word from your Strand family:
When I purchased Strand Insurance the first and best thing I did was to bring you back to the family. You have made a world of difference in all our lives, especially your customers. After 38 years of you taking such good care of us, it's time to enjoy a great retirement with Jack. You will be missed dearly. – Jim Jansen

Marla – I wish you only the best in retirement. It's been great working with you and having you as a friend which we will continue to be even though I won't have a chance to talk to you or see you in Teams as much. Enjoy your hobbies and quilting hops, getting up and doing whatever/whenever you want and please stay in touch. I will miss you – Love Nancy

Thank you Marla for taking me under your wing and showing me the ins and outs of insurance. I say it all the time, I wish I could take all the knowledge you have in your brain and put it in mine! You will be missed for sure, but I am so happy for you on your retirement! Enjoy!! – Windy Russell

Marla – I am so excited that you get to go and enjoy yourself after putting so many years into the job! We have had some really good times in the office and outside the office. Both my husband and myself always look forward to you Christmas baking goodies… I hope you enjoy many more shop hops, having more time for baking and for friends and family (don't forget your Strand Family) quilting and whatever else your heart desires. Congratulations on your retirement!! – Carole

It has been a great pleasure working with you over the years. Now you can officially say I am retired and you are not have a great day at work tomorrow and you have a seven day weekend! I hope having this time is relaxing and with all your sewing and crafts you can let your creativity flow. I wish you joy and happiness on your new adventure. Congratulations on your retirement! – Kelly Weston

Congratulations on your big day! Just think, you get to decide when you get up and when you go to bed, you can now stay up as long as you want! Sleep all day! It has been great working with you! Now you have so much time to sew and create things with your friends, the sky is the limit! I am sure Jack will appreciate having you around more as well. Take care and remember, Goodbye tension Hello pension! – Lynda Davis

Marla, you have been there for me since the time I was born. You are the only Strand family member (other than my mom) that I have known for my entire life. When I was an office baby you would push me around in my stroller and play with me. Who would have thought that years later we would be working together. Thank you for teaching me and helping me as I learn the world of insurance. You have always been there for me both in and out of the office. I can't think of a major life event that you didn't support me through. You were my family, before I was part of the Strand Family and for that I thank you! I am so happy that we got to share so many memories over the years. I am particularity fond of your Christmas treats and the times that we got to walk over to the kite fest and have lunch! Even though I am going to miss those things, I am so happy for you today! Retirement is what you have worked so far for and you did it! Congratulations! I am so proud of you! With love, Jamie

Marla and I came to know each other when we started working for Strand Insurance in the early 1980's. Neither Marla or I came from an insurance background so we learned the business together. Marla was a wiz when it came to math. Marla graduated college with a teaching degree and was a teacher in Montana for 2.5 years. Whenever a math equation came up, Marla was the go to person, she could calculate the number in her head before I could run it on the calculator. I brought my children to the office after they were born. Marla was so helpful pushing the stroller through town on her break, to pick up mail or do a bank deposit, people had to ask whose baby it really was. I had the pleasure of watching Marla's years of involvement with Eastern Star, Rebekahs, Lions Club, and the many events taking place on the peninsula. If you attended the local events, such as the beach to chowder run, surf perch derby or the kite festival, you most likely saw Marla there. She was committed to the success of the events she was involved with. Marla helped out where she could besides hold a full time job, helping out at her church and having time for her husband. I shared in her joys and her sorrows over the years and am so excited to know that Marla is getting the chance to retire and spend more time enjoying activities that she enjoys, such as quilting which she loves.

One funny story on Marla as we traveled back from a client meeting. It was a beautiful sunny day when we hit unexpected weather crossing over a winding ridge coming home. We were in a car and going around tight corners on a narrow road when the hail storm hit and the road was instantly WHITE. Marla's way of handling that situation as the passenger was to quickly pull her needle point out of her bag and start working diligently. She was able to stay calm and not look out the window again!

Marla, I have thoroughly enjoyed our years working together and experiencing so many life events together. Best wishes to you my friend and happy retirement! – Debbie Bighill